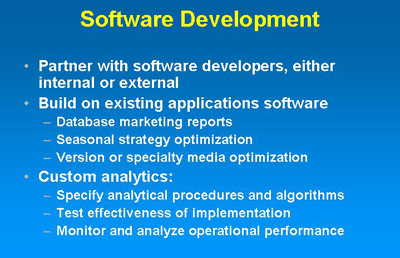 Marketing Analysis Applications has a high level of knowledge and experience in applying analytical techniques to marketing issues. In some cases this has lead to the development of software to implement very specialized analyses or optimizations.
Marketing Analysis Applications can work with companies that wish to build analytically based applications. Partners will do the coding of software, but the specification of techniques, testing implementations and monitoring ongoing performance require analytical expertise. In many cases, companies building large systems may be particularly interested in having a project partner with analysis and reporting experience.
© Marketing Analysis Applications, Inc.